BRIN builds research facility for traditional food processing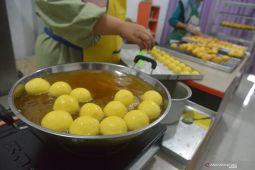 Jakarta (ANTARA) – The National Research and Innovation Agency (BRIN) has built a research facility for traditional food processing that is integrated with the current Good Manufacturing Practice (cGMP).
The facility is known as the Traditional Food GMP Facility (TFGF) whose construction was completed and the stage of laboratory apparatus maintenance and arrangement is underway, BRIN's Acting Head of Engineering Science Research, Agus Haryono, stated here on Wednesday.
The State Sharia Securities (SBSN) scheme for 2020-2021 was used for construction of the facility. The new research laboratory is deemed important in development and research for halal packaging.
Meanwhile, Acting Head of the Natural Material Technology Research Center (BPTBA) at BRIN, Satriyo Krido Wahono, explained that the BPTBA's flagship program encompassed food processing and food packaging technology.
Related news: Huawei forges stronger collaboration with BRIN through equipment and AI training contributions in support of AI national strategy
Wahono also noted that several parties, including Vice President Ma'ruf Amin, support the research conducted in BPTBA. According to Wahono, the vice president encouraged BRIN to realize the halal research center and factory sharing that become a sign of halal certification that is issued for food products of small and medium enterprises.
Facilities at TFGF comprise a co-working space building, an integrated laboratory, an in-vivo examination building, and the cGMP building.
Related news: Sunda Strait megathrust segment may trigger 8.7-M quake: BRIN
According to the laboratory manager in BPTBA, Safitri Widodo, a biomolecular lab, food microbiology lab, and food mycology lab will also support halal research.
Furthermore, the cGMP building is equipped with several processing lines, such as packaging, coffee/cocoa, noodle, meat, beverages, and a sensory lab, Widodo pointed out.
The integrated laboratory will function for research of packaging material, food stability, food security, food chemistry, food physics, and food engineering. Meanwhile, research on animals, such as house mice, chickens, and cows, can be conducted in the in-vivo examination building. 
Related news: Cases will rise if health protocol compliance declines: Task Force

Related news: Indonesia receives 1.4 million vaccines from the Netherlands, Japan

#BRIN #builds #research #facility #traditional #food #processing