Indonesia confirms recovery of 276 Omicron patients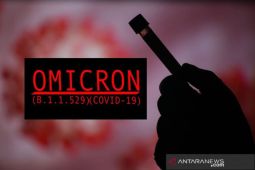 Jakarta (ANTARA) – Screenshot of the government spokesperson for COVID-19 handling Reisa Broto Asmoro while delivering a press statement on Wednesday (Jan 19, 2022). (ANTARA/Andi Firdaus)
Government spokesperson for COVID-19 handling Reisa Broto Asmoro reported that as many as 276 COVID-19 patients infected with the Omicron variant in Indonesia had made a recovery as of Friday.
"As of January 18, 2022, the number of COVID-19 patients infected with the Omicron variant totaled 882 out of which 276 had completed their isolation period and had recovered on January 14," Asmoro stated while delivering a press statement on the Presidential Secretariat's YouTube channel here on Wednesday.
The spokesperson noted that 564 COVID-19 patients had also recovered from other variant infections as of Tuesday, thereby bringing the total national recovery count of patients to 4.1 million since the pandemic hit Indonesia in March 2020.
Asmoro spoke of the government having guaranteed the availability of COVID-19 antiviral drugs in the country as a precautionary measure against the next wave of COVID-19 cases.
"These efforts include preparing new antiviral drugs, such as Molnupiravir and Paxlovid, wherein the Ministry of Health had secured 400 thousand Molnupiravir tablets readied by PT Amarox," she stated.
Asmoro is optimistic that all requirements for drugs would be met through domestic production in April or May 2022.
"This progress is a source of encouragement for us all to continue to surmount this pandemic," she stated.
Related news: Omicron early detection tool's production completed by January-end

Related news: Indonesia offers adequate quarantine places for foreign travelers

Related news: Cases will rise if health protocol compliance declines: Task Force  

 
#Indonesia #confirms #recovery #Omicron #patients